All information presented
on this website is
presented 'as is',
with no warranty,
suitability,
or fitness
of purpose implied.
I do not accept any
responsibility for any injury
resulting from use
or misuse
of this information.
Your use of this information
constitutes acceptance
of these terms.
Last year we only got a few stones completed, so this year we plan on quite a few more. Hopefully we will offer a couple of new ideas, or at least cover a few aspects I have noticed folks have forgotten.



Start off by deciding what you want the stones to appear like sketch them out. Get approximate measurements for height width and length. This is a slab construction method so now measure your pieces of foam, account for the space lost to foam thickness (I generally use 1" pink hard foam so I can form the desired appearance without losing structural integrity), Dry fit them together to make sure you are close.
It is better to be over sized then under sized, since you can easily trim away excess with a razor knife a rasp a file or a surform.
Now break out the Liquid Nails, and apply a small amount to one edge where it will butt to a face, press them together, squiggle them around to distribute the LNs, then pull them apart. It will appear all stringy and ridgy like ceiling texture before it gets knocked down. Allow about two minutes for this to just slightly skin over, then press them back together.



Repeat until you have a basic box or slab, when you have this part constructed, apply the facing to the section.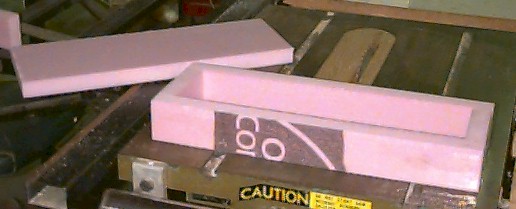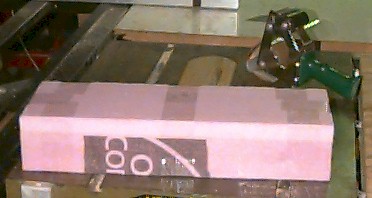 Now you want to secure this assembly until the Liquid Nails sets. I have found that clear packing tape works great to do this.
Repeat procedure until you have all the components of your tombstone together.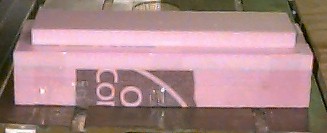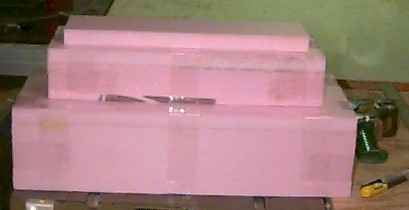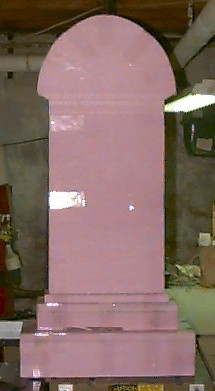 Now I find handling curved faces simple, and I think you will too. Start off with the face you want curved as a simple slab.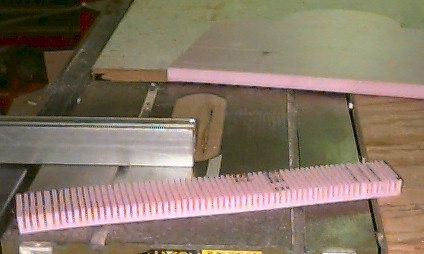 Then every quarter inch slot it across the width along the length leaving about 3/16" material backing. The shallower the bend, leave more material between slot, for a tighter bend remove more material.
To figure the length you need, take your face radius times Pi times two, then multiply that by the portion of the arc of circle your piece would equal.
In this instance I am making a half circle so:
5.625" x 2 x Pi (3.1417 is close enough for govt. work) x .5 (half circle right!) ± 17.7"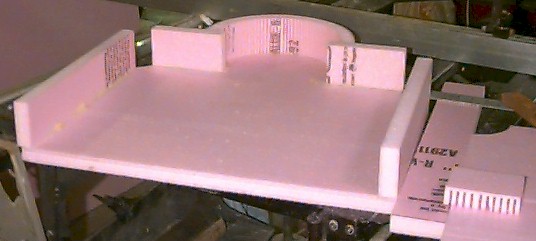 Glue the piece in place just as you would another slab, just be gentle as you coax it into position. I generally tape it to the face piece as I form it into position.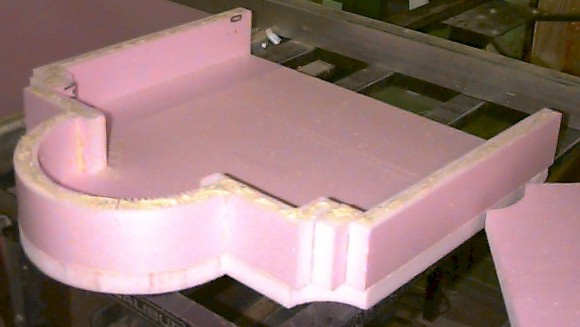 More complex bends take greater care.
This is what that stone looks like assembled.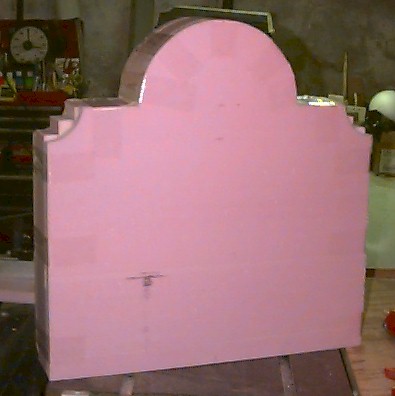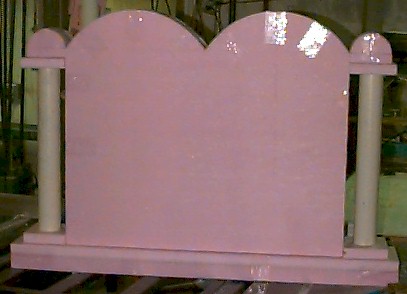 I will be adding to this page as more stones, covering topics such as decorating by routing, dremeling, corroding, and heating. I will also cover adding sleeves to keep the stones from flying off in the wind, adding applied pieces parts for more depth and ornamentation, painting for a quality graveyard appearance, adding devices to add motion and animation to the stones.
More to come soon.