MinionsWeb.com wants to see how you use your Minions Webber!
Send us your haunt pictures featuring Minions Webber produced webs.
To the person who provides the picture we like the best will be a certificate for
$100 towards products of your choice from MinionsWeb.com
We will select a picture from those submitted On Thanksgiving 2006.
Your picture will be shown on our webbers page!
Of course you will be given credit for the great shot.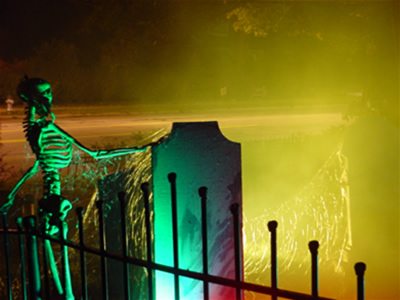 ---
The rules are simple:
You must create webs with one of the MinionsWeb.com model web shooters.
You can use any of the 7 MinionsWeb Web Stix.
Provide us details about the haunt:

home or professional or charity
how many nights you are open
where you are located
who owns the haunt.

Provide your name, address and phone number
To enter please send us an email to:
contest@minionsweb.com
or snail mail to:
MinionsWeb Contest
3372 Mayfield Road
Cleveland Heights, OH 44118
Anytime between now and Nov 15th 2006.
Submission can include up to 5 haunt photos.
All images become the property of MinionsWeb.com for its sole use at its discretion.
Submissions without all the details specified will be considered void and will not be judged for the competition.
Not all photos will be used by MinionsWeb.com, but may be at anytime and with no notice to anyone but the contest winner.
Contest winner will be notified by MinionsWeb.com On November 26th 2006 via email and phone call.
Contest winner will be announced and picture posted on MinionsWeb November 27th 2006.
---
Please note:
All Items will be offered until October 15th, 2006 for on time delivery before Halloween.
Last shipping day will be October 21st, 2006.
We will be closed, but available for phone & email support from October 22nd thru November 5th, 2006.
Minions Web accepts:
Credit Cards via PayPal.
Money Orders & Cashiers Checks.
Have questions?
Need assistance?
Try our FAQ first!
Please feel free to contact us:
(P) 216•321•1199
(F) 216•321•1881
Most shipping charges are included the on PayPal invoice at check out.
Refused/Cancelled orders will be assessed 50% restocking fee.
Shipping costs are non-refundable, EVER.
No refunds on Cob Webbers if loaded with glue.
Unused & unopened items may be returned for credit towards other merchandise or refund, less shipping charges.
You must have a return authorization number prior to returning the product. Please contact customer service via email for an RMA #.
E-mail: customer service
All information presented on this website is presented 'as is', with no warranty, suitability, or fitness of purpose implied.

MinionsWeb TenMen Productions LLC does not accept any liability and/or responsibility for any injury resulting from use or misuse of this information.
Your use of this information constitutes acceptance of these terms.